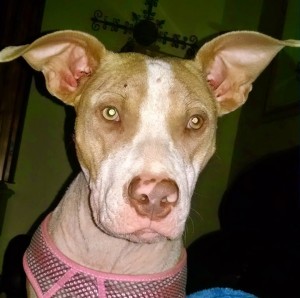 With 18 years of personal animal rescue experience, it has always been clear that there is a great need for bully breed advocacy and rescue. The negative stigma that the breed endures causes so many of these animals to being euthanized without question in our society's animal shelters.
The catalyst for change that prompted my husband and I to become a non-profit bully breed animal rescue was Emma Frost the Pit Bull (pictured above). Emma was found abandoned by a woman named Kristen Kristy in Victoria County, TX who spotted her emaciated and being pecked at by a den of buzzards because she was too weak to get away. Kristen scooped her up and called local law enforcement to help.  Then she was kindly informed that they would come pick up the dog and put her down because she was an American Pit Bull Terrier.
Fate intervened and I was at the right time and place to pickup the little rescue dog that could who would later be named Emma Frost (after the X-Men character by our daughter because she said her skin was mutated but one day she would sparkle as pretty as a diamond).  You see, Emma (about 9 mos old when she was found) had the worse case of Demodex I have ever seen, was covered in lesions in varied stages of infection, had burns and lacerations about her, and weighed only 11 pounds. She could barely hold her weight that first day, it took her weeks to look a human in the eye, but she didn't give up and neither did we. In fact, her spirit lit a fire within us to not only continue to rescue abandoned animals, but to dedicate our efforts to her breed, the bullys, because their breed is being annihilated in shelters across America and breed specific legislation has turned them into outlaws.
Today, Emma's hair has returned, she has a fat little belly, and she not only makes eye contact but she will lay on your chest and engage in loving stares for as long as she can get you to sit still. She gives tons of kisses, is a role model to guide the new rescues that come in, and she is the highlight of our days here at Rebel Rescue. Emma Frost, the little misunderstood dog that could, is the epitome of what a bully breed dog represents. She has spunk, a zest for play, an unwavering and determined spirit, and the typical unconditional and loving heart that we have only experienced with the world's most misunderstood breeds….the bully breeds. She is part of our family now, and we will gladly keep fighting for Emma and helping her compadres!
~Helping animals means you're healing animals~
Rebel Rescue
~Providing Animals With Sanctuary~Specializing in Bully Breeds~
Follow us!!!: