Support the Rebel Rescue Dogs

Do you shop at Amazon.com?
Well now you can help Rebel Rescue Inc, while you shop! Amazon will donate 0.5% of your eligible AmazonSmile purchases to Rebel Rescue when you shop at AmazonSmile (smile.amazon.com). It's so easy to set up Rebel Rescue Inc as your charity of choice.
1. Go to smile.amazon.com
2. Sign into yourAmazon.com account
3. Type in Rebel Rescue Inc in the "pick your charitable organization" box and hit select.
4. Start shopping!
Click here to set up your account.
Donation Facts
We wanted to  share  some information about how your donations are used. It takes about $80 each month to support the needs of one rescued rebel dog. These costs include parasite/flea/tick/heartworm prevention plus food, shelter, and medical care.  Unfortunately, we can only bring in as many dogs as we can afford to care for and we have to turn down 4-5 dogs in need every week.
Working with Victoria Animal Control (VAC) and other Veterinary resources, we have been able to rescue dogs at a reduced costs.  This partnership in saving bully breed  dogs is helping!  Our partnership with these organizations provides an opportunities to save bully breed dogs and reduce our costs, which means that your donations will go further. We encourage you to consider adopting a bully breed dog from Rebel Rescue.
Helping Veterans & Disabled
Did you know that by the end of today, 22 veterans will commit suicide because of service related trauma? Our goal has always been to bring street dogs into service as a valuable part of our community.  And the rebel  dogs  step up to meet this cause!  At the beginning of 2016, as part of a program we created called the Crossroads Bully Brigade Program (aka Bully Brigade), we began offering qualifying veterans and the disabled an opportunity to get their dog trained and certified as a service dog. We started this part of our program to make certain we don't lose one more person that can be helped by a service dog. And through this process,  street dogs are absolutely enriching our community!
Let's Talk About the Bully Brigade Dogs
The Bully Brigade Program provides reduced cost adoptions to Fire, Police, EMS, and Veteran persons. This family of community servants struggle with stress related issues in connection with their service. It is the rebel dogs that are making the difference in the quality of life for these dedicated and courageous citizens that need service dogs to mitigate triggers. This program provides a low cost adoption which equals a $250 savings to each man or women who adopt a  dog.
Without sponsors to offset the costs of the dogs, we cannot provide the dog to those who have earned this honor. Just to place 10 dogs a year costs our rescue a little over $2,500 but we believe there is no cost too high when helping to heal in our community. If you would like to sponsor a Bully Brigade candidate then make a donation by check or by card, using the donate link above, in the amount of $250 and note in the additional information box that this donation is to sponsor a dog for program recipients.
Let's Talk About the Service Dog Training
Thanks to partners like the Crossroads Area Veteran Center, Honor361, PetSmart Victoria Store #1449, and Crossroads K9 Companions, we are able to provide 30 hours of classroom training and guidance to service dog teams. During the program, team leaders continually train their dogs and must complete a minimum of 120 hours of service training.
Ultimately, these service dog teams MUST pass the Public Access Test to receive their final certification. The certification test is documented and must be retaken every year to ensure service dog teams are continually producing exceptional results. Through our partnerships, we are able to keep the costs of each team in the program to about $1,500. That is a phenomenal savings as compared to the national average for service dog training of about $11,500!
Let's Talk About the Need
When we started the Bully Brigade Program in January 2016, we budgeted to sponsor 8 veterans who we knew were in serious need of this life-saving resource. At a yearly cost of $12,000, this was a VERY tall order. Luckily, a private donor stepped up to help get the program off the ground through the end of 2016. But 8 dogs is not enough folks. By the end of 2016, we have 12 active veteran service dog teams, 5 active service dog teams for qualified non-veteran disabled, and have 4 veterans on our wait-list (1 of which is also a local police officer). To say the need is GREAT and we need HELP to fulfill this need through your donations is an understatement.
We are trying to save bully breed dogs and in-turn these dogs are saving others in need. We survive on donations as a non-profit 501(c)3 corporation. Through your donations, street dogs are being brought into service and paying forward your help with a lifetime of giving love and dedicated service to help others. To help, please consider sponsoring the care of a rebel dog, or sponsoring a Rebel Rescue program with a monthly recurring  donation using the donation button at the top of this page.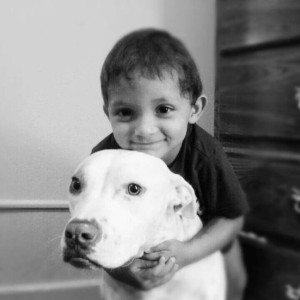 Other Ways To Give
If you buy goods using Amazon.com, consider buying through a Amazon Smile account so that 0.5% of all of your purchases can get donated to Rebel Rescue.
If you are interested in fostering a pet, please fill out a foster application on the applications link above.
If you are unable to foster or adopt a dog from us, please consider donating to help us save a life today! Thank you for all you do to help abandoned bullies! To help is to heal!